Designated Safeguarding Lead (DSL): Mrs Jayne Jones, Associate Deputy Headteacher – j.jones@epchs.co.uk
07437 209769 for emergency use only

out of hours
Deputy Safeguarding Lead: Mrs Carly Hughes – c.hughes@epchs.co.uk
Both DSL's can be contacted by students via Microsoft Teams using the chat and video facility.
Emails of both staff are available above for staff, students, professionals and parents to use when required.
During the COVID lockdown, a member of the safeguarding team is on site, at all times, during school hours. At all times during school hours both DSL's are available virtually.
Both members of staff wear a yellow lanyard when in school to allow visitors to distinguish them from other staff. Pictures of these staff members are on the school reception also.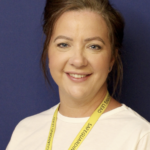 Mrs Jayne Jones