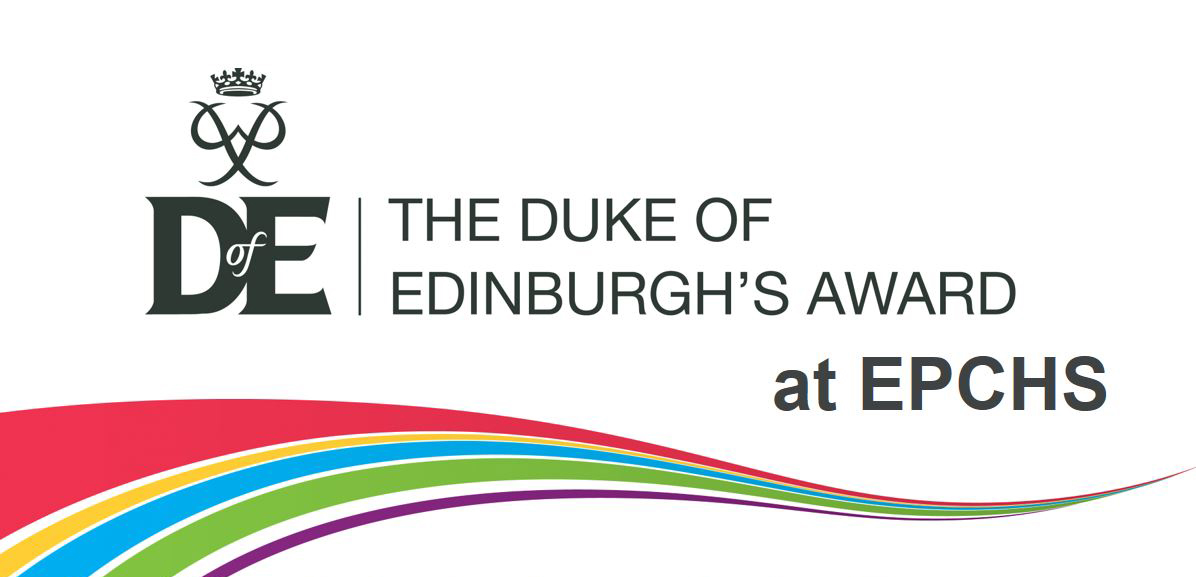 Make a difference, make it count…we are DofE!
WHAT IS THE DOFE ALL ABOUT? The Duke of Edinburgh's Award offers an individual challenge to young people between the ages of 14 and 25. It consists of a balanced, non-competitive programme of voluntary activities, which encourages personal discovery and growth, self-reliance, perseverance, responsibility to themselves and service to the community. In order to gain an award a pupil must show improvement through persistence and achievement.
WHAT ARE THE BENEFITS OF PARTICIPATION? Universities and future employers are often keen to interview candidates who have gained Duke of Edinburgh's Awards, because they know that such involvement means a young person is proactive and may have developed a whole host of skills.
WHAT IS MEANT BY BRONZE, SILVER AND GOLD AWARDS? There are three levels of award: Bronze, Silver and Gold. Each level is rewarded with a certificate and badge. Anyone completing the Gold level is invited to St James's Palace in London to receive their certificate.
WHO CAN TAKE WHICH AWARD? Year 9 students are able to start their DofE journey with the Bronze award.
Year 10 students have the Silver award available. Students who have completed their Bronze award and to new entrants are able to register.
The Gold award can be started as soon as a student reaches their 16th birthday, whether or not they have completed any awards previously. As a direct entrant however, you will need to complete certain aspects over a longer period, to show a greater commitment.
WHAT HAS TO BE DONE TO GAIN AN AWARD? At all award level there are four key sections which must be completed for a minimum length of time.
· Volunteering- students offer service to individuals or other areas of the community. This can range from teaching primary pupils to read, visiting the elderly, coaching a team to recycling within the School.
· Skill – this essentially means a hobby. It encourages discovery and development of practical and social skills and personal interests.
· Physical Recreation – Encourages participation and improvement in physical activity.
· Expedition – this encourages a spirit of adventure and discovery. At all levels of the award, students undertake a training program to ensure they have the skills to be safe in the outdoor environment and make progress across the landscape.
· Residential (Gold level only) – this broadens young people's experiences through involvement with others in a residential setting for at least 4 nights.
HOW DOES THIS ALL FIT INTO THE PUPILS' BUSY LIVES? EPCHS runs a detailed training programme in school to teach the required expedition skills. This begins in the autumn term and moves into spring to ensure students are ready for expeditions.
Students have a range of opportunities to volunteer in school with either sports or arts based clubs. Students could also volunteer at local primary schools to support after schools clubs or even become involved with a charity.
Those playing in teams can use their match practices towards their physical recreation, whilst others could enjoy participating in extra clubs either in school or outside.
Skills are taken up in the students' own time
Expeditions occur in the months between March and October: Bronze, often in the Cheshire plain; Silver, in Clwydian Range, North Wales; and Gold in suitable wild country, such as Snowdonia, the Lakes or the Peak District.
The emphasis for the volunteering, physical activities and skills development very much depends on the commitment of the student, if they are already taking part in a club then this could be used to support their award.
SOUNDS INTERESTING?
Then contact our DofE Coordinator and Assistant Headteacher Mr Hughes.